The successful completion of the takeover of Sydney Airport in March 2022 marks the conclusion of 20 years as a listed entity. Since the inception of the Cromwell Phoenix Property Securities Fund (the Fund) in April 2008, Sydney Airport (ASX:SYD) has been a core holding and a big positive contributor to the Fund's returns.
From the early days, the potential upside of airports made for a compelling investment case for the Cromwell Phoenix Property Securities Fund. Airport ownership provides a myriad of opportunities to invest in commercial activities, particularly via the unregulated retail, car parking and property opportunities, which combined can often represent a greater proportion of airport revenues than aeronautical activities.
With respect to aeronautical activities, the privatisation of Sydney Airport was accompanied by the removal of price controls on aeronautical charges, enabling more flexible arrangements between airlines and the airport allowing for the provision of services to meet the demands of airlines.
The infographic below provides a timeline of Sydney Airport's ascent, turbulence and smooth landing.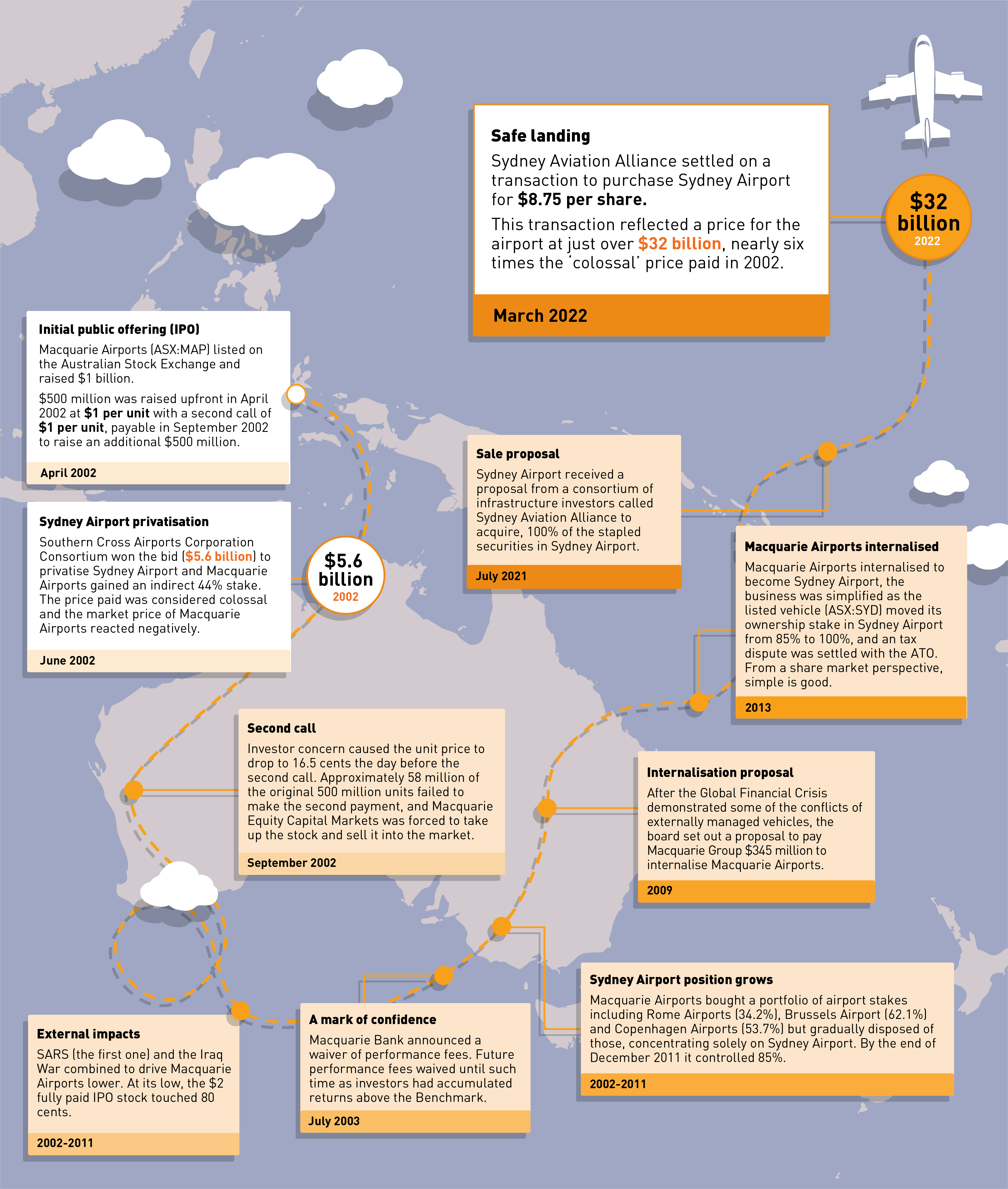 Issued by Cromwell Funds Management Limited ABN 63 114 782 777, AFSL 333 214 (CFM). This is not an offer of securities or financial product advice and is not a product disclosure statement (PDS). The repayment and performance of an investment is not guaranteed by CFM, Phoenix Portfolios Pty Ltd ABN 80 117 850 254, AFSL 300 302 (Phoenix), any of their related bodies corporate or any other person or organisation. This document is provided in good faith and is not intended to create any legal liability on the part of CFM or Phoenix. This analysis is for information only and CFM and Phoenix specifically disclaim any responsibility for any use of the information contained by any third party. Opinions expressed are our present opinions only, reflecting prevailing market conditions, and are subject to change. Past performance is not indicative of future performance. In preparing this publication, we have obtained information from sources we believe to be reliable, but do not offer any guarantees as to its accuracy or completeness. This publication is only intended for the information of professional, business or experienced investors.