Cromwell Phoenix Property Securities Fund
This award-winning Fund is one of the top performing property securities funds in Australia, with underlying investments chosen by Phoenix Portfolios using a 'best ideas' approach.
Performance4 (Annualised as at 31 August 2021)
1 Year
3 Years
5 Years
10 Years

Inception

(April 08)

Fund Performance

After fees and costs

41.3%
8.7%
7.1%
14.9%
9.3%

Benchmark

S&P/ASX 300 A-REIT Accumulation Index

31.8%
9.4%
7.1%
13.2%
5.6%

Excess Returns

After fees and costs

9.5%
(0.7%)
0.0%
1.7%
3.7%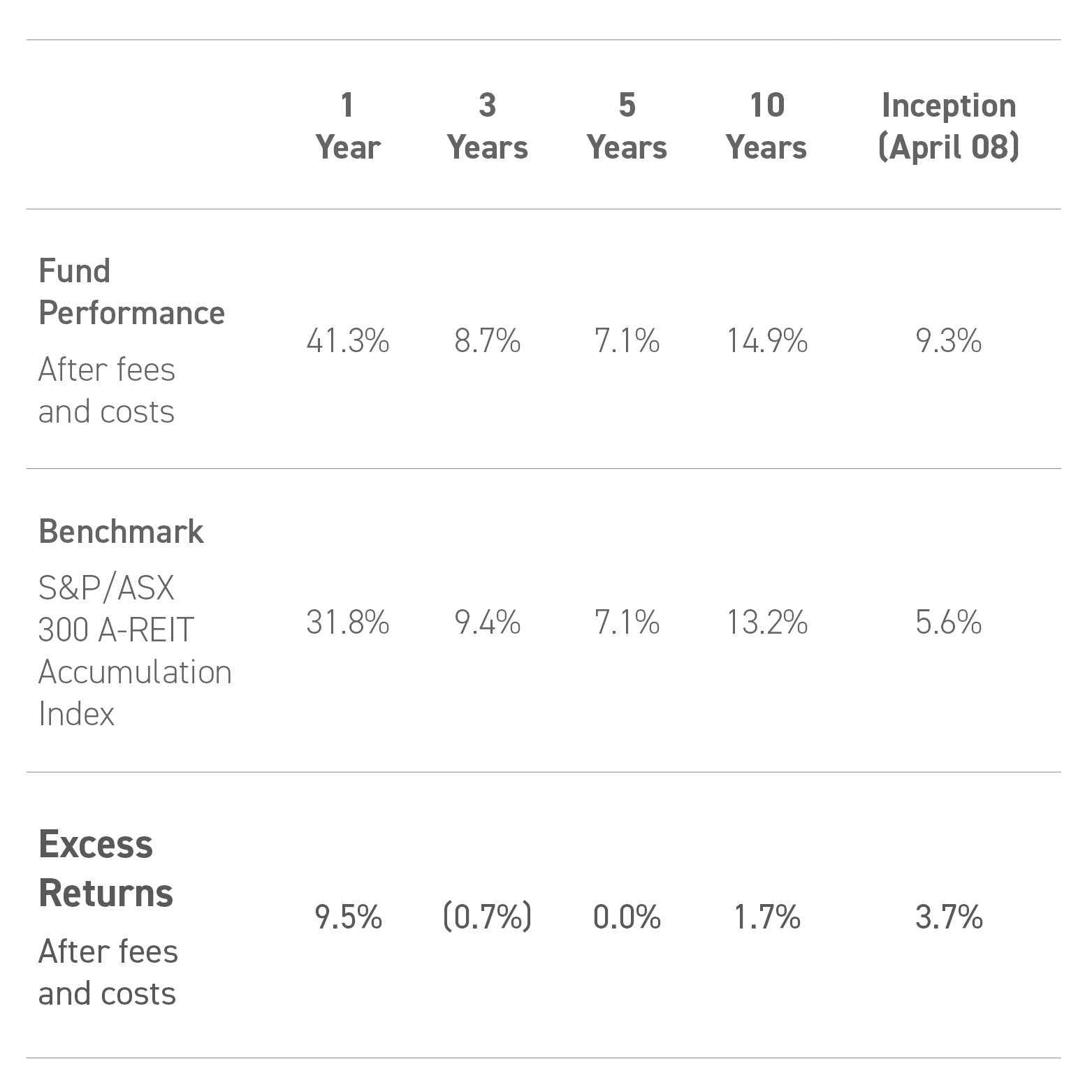 What makes the Fund different?
The Fund follows a truly active 'benchmark unaware' strategy, which means it is not forced to own stocks just because they are part of the Benchmark Index. The increased flexibility of this strategy has improved Phoenix Portfolios' ability to outperform the Benchmark Index over the long term1.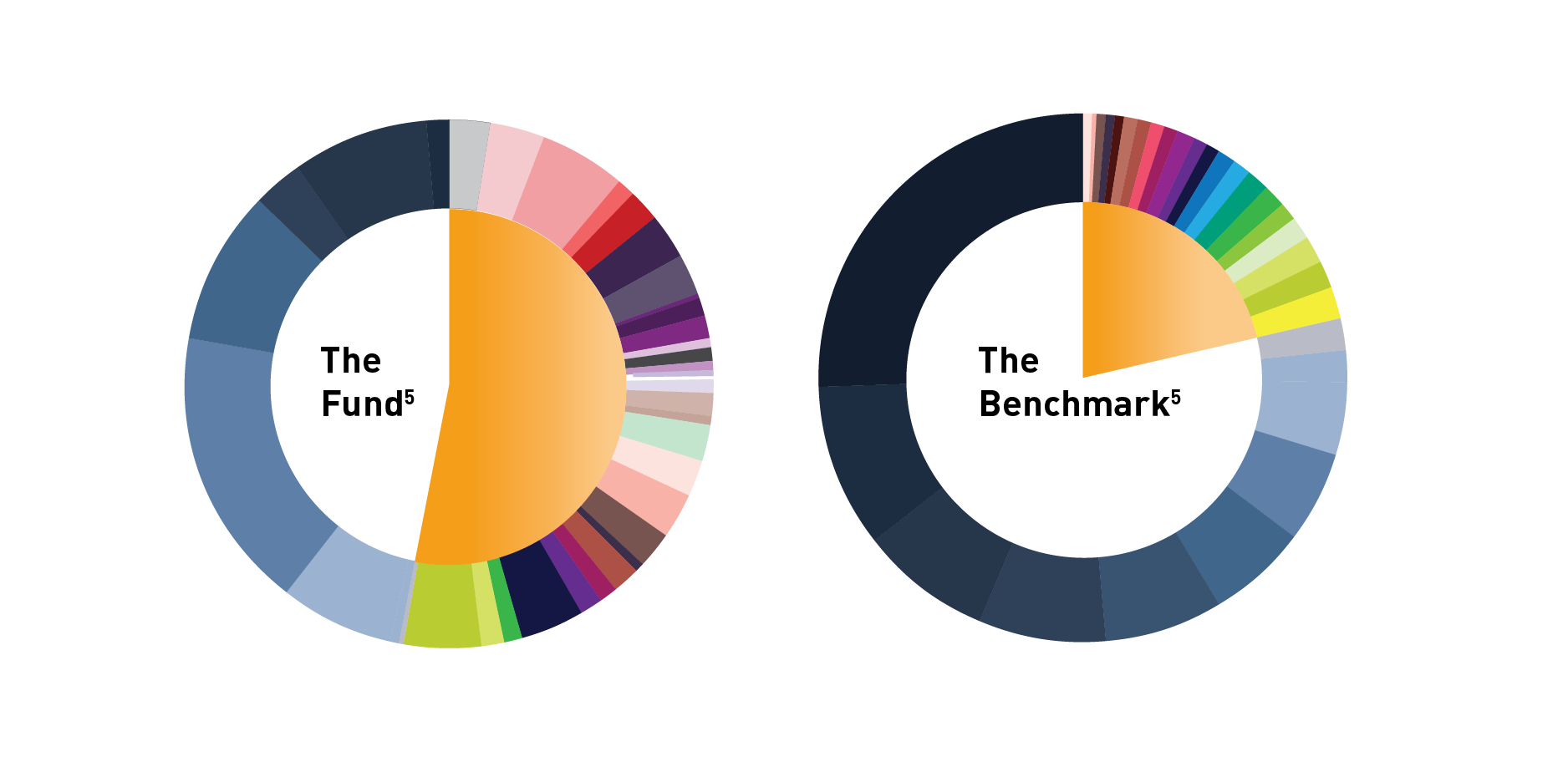 The Benchmark
If you were to invest in the Benchmark Index on 31 August 2021, approximately 78.92% of your investment would be in 10 stocks. 'Benchmark unaware', Phoenix is able to diversify the Fund's exposure and gain a bigger slice of the smaller stocks (compare the orange sections in both graphs adjacent).
The Fund
Phoenix believes smaller stocks are typically under-researched and therefore more likely to be attractively priced. So, despite many of these stocks possessing compelling investment fundamentals, they are overlooked by many managers.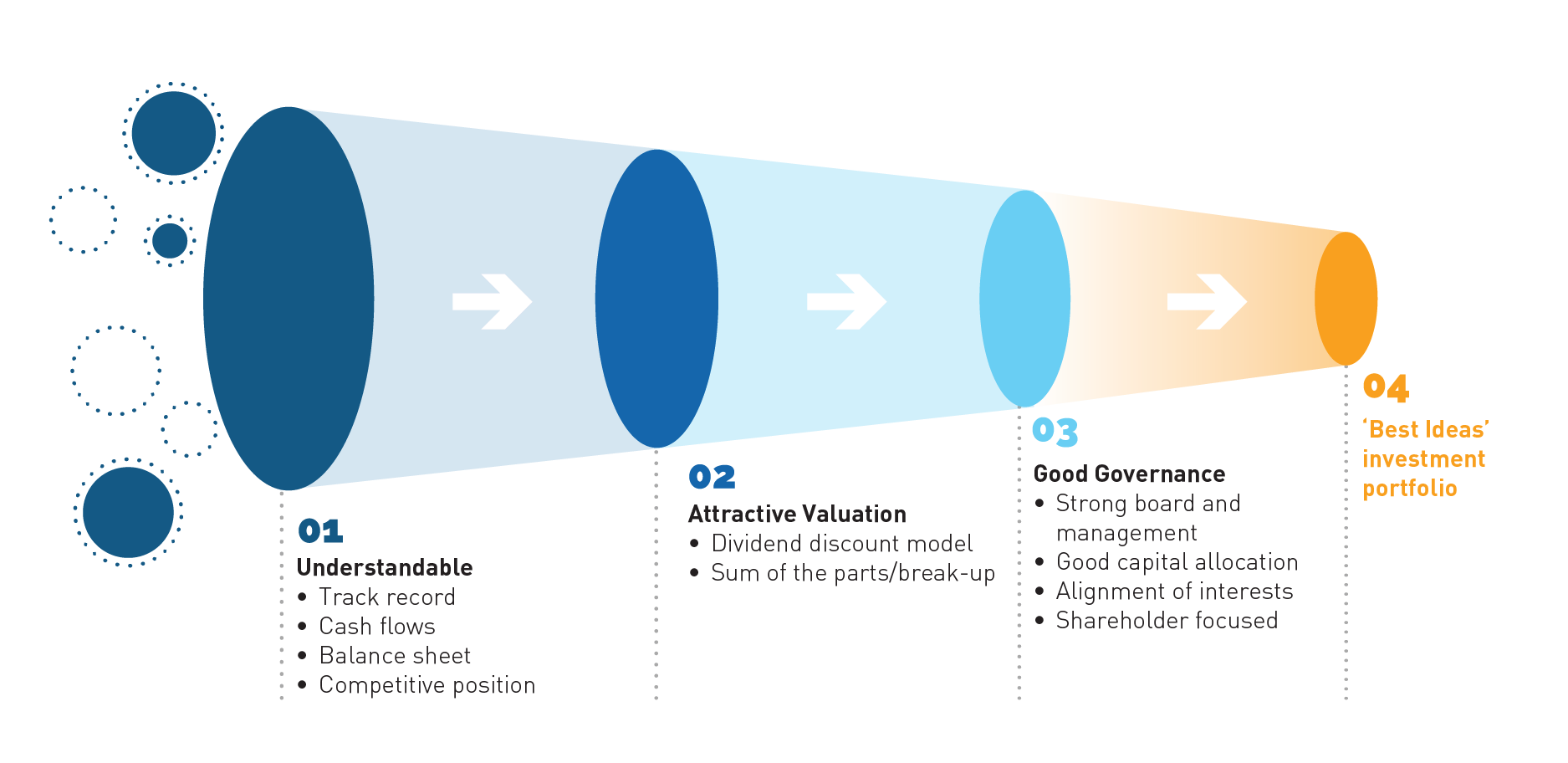 Phoenix carries out extensive proprietary research on approximately 75 stocks covering a broad range of Real Estate Investment Trusts, property-related stocks and some infrastructure. A large universe of investment options provides more opportunities to add value. Phoenix uses a standardised valuation framework which facilitates 'apples for apples' comparisons.
The investment team considers the characteristics of each investment opportunity and the related corporate governance issues which can have a material impact on the stock's long-term valuation.
Fundamental analysis focuses on 'bottom-up' research to fully understand the key factors that have driven historic performance and to enable informed forecasts to be made of its future earnings and cash generation.
Only a subset of the stocks Phoenix researches are considered 'Best Ideas' and worthy of consideration for inclusion in the Fund.
Portfolios are constructed without reference to a benchmark index. Position size is a function of valuation and liquidity with portfolio positions heavily skewed towards those stocks with the most attractive valuations. The portfolio is constructed to achieve a well-diversified outcome with exposures across all property sub-sectors and geographies.
As stock fundamentals change, or as a stock moves towards Phoenix's assessment of fair value it may no longer qualify as a 'best idea' and will likely be replaced with more compelling investment opportunities.
Learn more about the Fund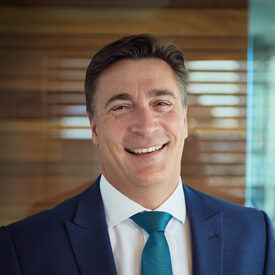 Daniel Thomas
National Manager – Adviser Distribution (VIC, SA, WA, TAS)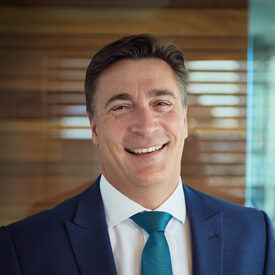 Daniel Thomas
National Manager – Adviser Distribution (VIC, SA, WA, TAS)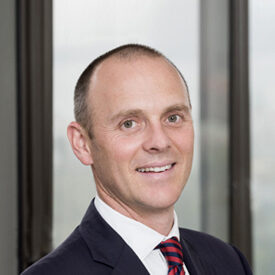 1Ten-year absolute ranking out of 96 Equity Australia Real Estate funds as at 31 August 2021. © 2021 Morningstar, Inc. All rights reserved. Neither Morningstar, its affiliates, nor the content providers guarantee the data or content contained herein to be accurate, complete or timely nor will they have any liability for its use or distribution. Any general advice or 'regulated financial advice' under New Zealand law has been prepared by Morningstar Australasia Pty Ltd (ABN: 95 090 665 544, AFSL: 240892) and/or Morningstar Research Ltd, subsidiaries of Morningstar, Inc, without reference to your objectives, financial situation or needs. For more information refer to our Financial Services Guide (AU) or Financial Advice Provider Disclosure Statement (NZ) at www.morningstar.com.au/s/fsg.pdf and www.morningstar.com.au/s/fapds.pdf. You should consider the advice in light of these matters and if applicable, the relevant Product Disclosure Statement before making any decision to invest. Our publications, ratings and products should be viewed as an additional investment resource, not as your sole source of information. Past performance does not necessarily indicate a financial product's future performance. To obtain advice tailored to your situation, contact a professional financial adviser.
2The Lonsec Rating (assigned March 2021) presented in this document is published by Lonsec Research Pty Ltd ABN 11 151 658 561 AFSL 421 445. The Rating is limited to "General Advice" (as defined by the Corporations Act 2001 (Cth)) and based solely on consideration of the investment merits of the financial product(s). Past performance information is for illustrative purposes only and is not indicative of future performance. It is not a recommendation to purchase, sell or hold Cromwell Funds Management product(s), and you should seek independent financial advice before investing in this product(s). The Rating is subject to change without notice and Lonsec assumes no obligation to update the relevant document(s) following publication. Lonsec receives a fee from the Fund Manager for researching the product(s) using comprehensive and objective criteria. For further information regarding Lonsec's Ratings methodology, please refer to our website at: http://www.lonsecresearch.com.au/research-solutions/our-ratings
3The Zenith Investment Partners ("Zenith") Australian Financial Services License No. 226872 rating (assigned June 2021) referred to in this document is limited to "General Advice" (as defined by the Corporations Act 2001 (Cth)) for Wholesale clients only. This advice has been prepared without taking into account the objectives, financial situation or needs of any individual. It is not a specific recommendation to purchase, sell or hold the relevant product(s). Investors should seek independent financial advice before making an investment decision and should consider the appropriateness of this advice in light of their own objectives, financial situation and needs. Investors should obtain a copy of, and consider the PDS or offer document before making any decision and refer to the full Zenith Product Assessment available on the Zenith website. Zenith usually charges the product issuer, fund manager or a related party to conduct Product Assessments. Full details regarding Zenith's methodology, ratings definitions and regulatory compliance are available on our Product Assessment's and at www.zenithpartners.com.au/RegulatoryGuidelines
4After fees and costs. Performance data for periods longer than one year have been annualised. Past performance is not a reliable indicator of future performance.
5As at 31 July 2021. Positions in the Fund and the Benchmark Index are subject to change.